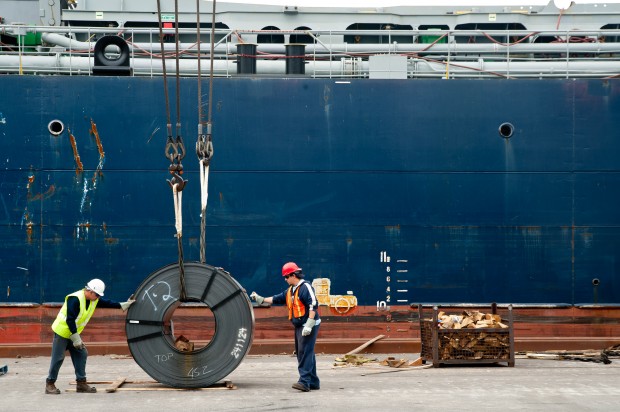 A flood of low-cost imports have been taking business away from U.S. steelmakers and blamed for a slew of mill closings that have included the idling of East Chicago Tin, where nearly 400 people work.
Last year, finished imports captured 28 percent of the U.S. market share, surpassing the previous record of 26 percent from 1998 and 2006, according to the American Iron and Steel Institute. The market share was 23 percent in 2013.
Finished imports soared 35.9 percent last year to a total of 33.7 million net tons, the third highest on record. Steel mill product imports rocketed up by 37.9 percent over 2013 to 44.3 million net tons, the second highest of all time and just a million shy of the record in 2006. 2014 was only the third time in history such imports exceeded 40 million net tons. 
But steelmakers are fighting back. 
The American Iron and Steel Institute, which represents the domestic  steel industry, is pushing for action in Washington, D.C., including the enforcement of trade laws and legislation that would impose duties on imports from countries that engage in currency manipulation. They hope to block unfair trade and clamp down on import surges like the one last year that has resulted in hundreds of layoffs nationwide.
The U.S. steel industry remains  dedicated to meeting the needs of society by supplying critical materials for industry, providing communities with good paying jobs, and making  advancements through research and development, AISI President and Chief Executive Officer Thomas Gibson said.
"However, our industry is facing significant challenges: from a surge in imports that has hit an all-time high in market share, to policies that affect private investment and public infrastructure funding, to competing materials impacting steel markets," Gibson said.
Bills have been introduced in both the U.S. House of Representatives and the U.S. Senate to address currency manipulation that U.S. steelmakers and other manufacturers have decried. Sen. Joe Donnelly, D-IN, was one of 14 members of Congress – mostly from steel-producing states – to sponsor the legislation.
The proposal would allow U.S. businesses to pursue countervailing duties against steel imports from countries that keep their currency artificially low, such as China.
"Currency manipulation continues to put U.S. manufacturers, including the U.S. steel industry, at a great disadvantage against our foreign competitors," Gibson said. "In order to remain internationally competitive, we need the administration to insist that our trading partners adhere to their World Trade Organization obligations and hold them accountable when they do not."
Total U.S. imports of all products were $2.85 trillion last year, a 3.4 percent increase over 2013, according to the Alliance for American Manufacturing. The trade deficit with China soared to $342.6 billion, up from $318.7 billion in 2013. while the United States ran a $67 billion trade deficit with Japan last year.
The United Steel Workers Union is looking into filing more trade cases to protect jobs in the steel industry and other sectors, USW District 7 President Mike Millsap said. But the problem is, tariffs don't get imposed until after the damage has been done.
"The companies lose money. We lose jobs. The communities get hurt," he said. "Only after there's harm do they do anything. This country needs to attack the problem before it happen."