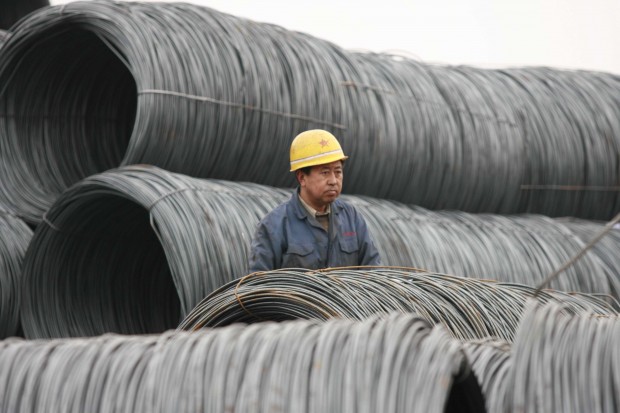 A third of the finished steel products bought in the United States so far this year were made overseas, and domestic steelmakers are ailing.
[Reposted from NWI.com  |  Joseph S. Pete  |  March 10, 2015]
Finished steel imports seized 33 percent of the market share last month, and have captured a full third of the market so far this year, according to the American Iron and Steel Institute. They're up 36 percent as compared to the same period in 2014.
Last year, finished imports captured a record 28 percent of the market share and they're on pace in the first few months of 2015 to smash that record.
The flood of low-cost imports have taken a toll on domestic steelmakers, which have lost business and been forced to keep prices low, eating into their margins. ArcelorMittal and U.S. Steel, which don't enjoy the same subsidies as foreign steelmakers, have announced plans to eliminate 1,000 jobs in Northwest Indiana after idling facilities that include East Chicago Tin and Indiana Harbor Long Carbon.
America imported 8 million net tons of steel in January and February, a 24 percent increase over last year. That included 6.3 million tons of finished steel products. Cut-to-length plate imports were up 124 percent during the first two months of 2015, while line pipe, heavy structural shapes, cold rolled sheets, standard pipe, tin plate, oil country goods, and several other products also posted substantial increases.
"There's a big impact," said Terry Steagall, a steelworker with United Steelworkers Local 1010. "They can dump this stuff, while our manufacturing is dwindling away. It means a devastating loss for local economies. And it's not just steel. It's in every segment: steel, paper, rubber and glass."
Imports did slow in February, with permit applications decreasing 15 percent from January to 3.7 million net tons, while finished steel imports fell 13 percent. The estimates were, however, preliminary since importers have an additional 10 days in March to file the permitting paperwork.
Reinforcing bar imports rose 56 percent in February, while heavy structural shapes were up 38 percent and tin plate was up 35 percent. Hot-dipped galvanized sheets and strip were up 16 percent.
"The tin mill's gotten hit real hard," Steagall said. "U.S. Steel's closing pipe mills. The bar mill at Indiana Harbor Long Carbon is going. The reason is that they're not making money because they're fighting the low end of the market."
The USW has been fighting trade cases to preserve good-paying steelworker jobs, but the nation's trade laws are backwards because tariffs only get imposed after the economic damage is already done, Steagall said.